Meet our team of talented professionals
Ken Jordan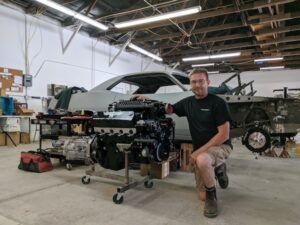 Ken Jordan's journey to owning his own classic car restoration and collision shop began more than 35 years ago, when he and his father dug an abandoned 1965 Chevelle out of an overgrown field. The car had been gutted, and at the age of 14, Ken began helping his father turn the car into a Chevelle again, and then drove that car to Illinois, where he lived for a few years with his father.
After returning to Eugene, Ken again furthered his car education, this time taking the automobile painting courses at Lane Community College. He graduated as a certified painter, then took a job as an autobody apprentice, but found himself quickly surpassing even the journeymen in his knowledge, thanks to his years of past experience restoring cars. He worked in the collision repair industry locally for 13 years, and then at another car restoration shop in town before starting his own classic car restoration shop in 2001, which had been his goal all along.
Ken quickly grew Artistic Customs and Collision into the full-service collision repair and car restoration shop that it is now. Over the years, Ken has trained his own apprentices so cars can be restored to better than new, with full air conditioning, rack and pinion steering, new chassis, better brakes, modern motors, modern fuel injection, and more. Artistic Customs and Collision is now a one-stop shop for your complete classic car restoration. Bring your car here or Ken will pick it up and deliver it to you when it's done.
Ken's favorite car restoration project so far has been a 1966 Nova. "The modifications were subtle," Ken says. But it was fast, with 680 horsepower and it drove like a dream."
Jennifer Jordan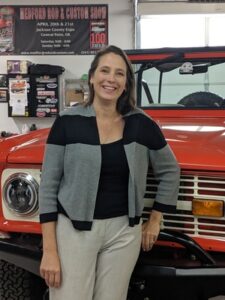 Jennifer is Ken's wife since 2002 and she is also an accountant for the last 13 years. She has experience in the collision industry, which is how she and Ken first met. Jennifer manages Artistic Customs and Collisions' business finances and day-to-day operations. They work as a team every day to improve and grow the business.   
"He told me we would own our own shop one day and he wasn't kidding. He continues to amaze me every day with his talent and attention to detail as well as his commitment to his customers. I could not imagine a better partner."
Joe Rayford
From the age of 12, when Joe drove his uncle's 30 Ford A hot rod roadster through his neighbor's fence, he's been around or helping work on classic hot rods and old cars and race cars. When he wasn't having fun at his uncle's he was home building model cars starting to learn the parts of cars and where they went. After several high school automotive and welding classes he went to Wyoming Technical Institute and earned his degree in Automotive Technology and Business Management and Hot rod Building and Customizing. He's spent the better part of the last 25 years working in automotive restoration shops fixing and repairing rust, modifying chassis, wiring and building full-on custom and classic cars.
When he's not working he's at the track with his uncle and cousins racing Flathead Ford powered race cars, at Bonneville chasing land speed records or at car shows learning current trends or watching NASCAR. When it's time to take a break from four wheel fun he's watching his beloved Nebraska Cornhuskers.
While he's helped built countless beautiful hot rods and customs and numerous Good Guys award winners and magazine cars, he says he still doesn't have a favorite because it's not so much about the car being built, it's about the relationship forged with the owner and helping their dream to be realized.
Jake Kolasinski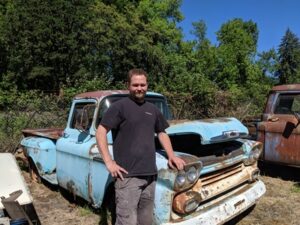 Jake grew up working on cars with his father, and remembers prepping, sanding, and painting cars as an 8-year-old. At first, car restoration and repair work was a hobby for him, but when he purchased his own first car at age 17, a '79 Monte Carlo in canary yellow, which he later wrecked and had to fix himself. Later in his life, he discovered the auto collision program at Lane Community College, where Ken was an instructor. Jake also joined the LCC auto instruction staff and worked with Ken at the college during the day. Then with Ken at Artistic Customs and Collision at night. Those 16-hour days became too much, so Jake left LCC to work with Ken full time. "Ken and his wife Jen are a positive and supportive, family oriented business and they really care," says Jake. His favorite car that past through the shop was a Mercedes 300 SL, which they worked on beginning to end. 
"To be involved at every step, from the first primer to the final bodywork, was a lot of fun. I'm also really fond of the '54 Ford Pickup we did. The best part of this job is that we work on so many cool and interesting things."
Jacob Ho'opai Alonzo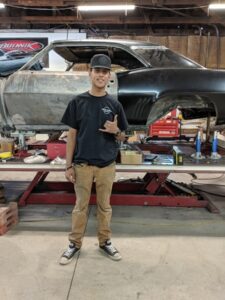 Jacob was the kind of kid who took cars apart to figure out how they worked. Although he didn't have a family member to teach him about cars, his father was a carpenter and they always worked on hands-on projects together. As soon as he turned 16 he got his drivers license and "made the mistake" of buying a project truck, a 1986 Chevrolet 210 Lowrider. Rather than actually driving his truck as his friends were, he was spending his time fixing it.
Today, Jacob is restoring two S-10 pickups. After graduating from high school he achieved his welding certificate, which was his first step to being able to provide custom metal fabrication for car restoration and repairs. "Coming here has been awesome because I've been able to apply everything I've learned plus work on new things and keep learning," Jacob says. His favorite project car was the '66 Nova because that was the first car he got to work on here at Artistic Customs and Collision.
"There is a crazy level of craftsmanship that goes into everything we do and it was cool to see this car come to life in front of my eyes."
"There's art and science in car restoration and repair," says Ken Jordan. "It's amazing to take a car that might look like junk and turn it into a car that in many ways is even better than when it came off the line when it was brand new. It's creative work and it's rewarding to have satisfied customers who get what they want — the car of their dreams."